11 Boater Safety Tips For Summer
Posted on Friday, June 9, 2017
It's that time of year when you start to get everything out of storage.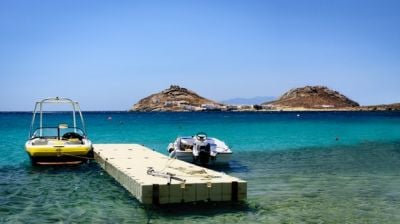 If you don't have a boat or personal watercraft (PWC) but this is the year you are going to get one, make sure you are aware of all the rules and regulations for driving on water. Here is a quick guide of the basic water safety tips:
Personal Watercraft Rules
Do you love to feel the wind in your hair when flying around on the lake? Make sure you know the speed limit for the lake. Every lake is different and some are slower than others.
When you are either driving or riding on a PWC, you must be wearing a life jacket.
Are you someone who loves to jump the wake of boats and catch air? This is okay to do, but you have to be at least 150 feet from boats or from a wakeboarder or tubers.
Most states have laws just for PWC, such as you are allowed to run them between 9:30 a.m. to 1 hour before sunset.
Boat Rules
There is nothing better than driving at night in the cool summer air. When driving at night between sunset and sunrise make sure your red and green lights are on in the front of the boat and the white light is visible on the back. These are great things to check right when you get it out of storage. The wires can become loose and will need to be fixed before you use our boat at night.
Before leaving the dock, make sure there are enough life jackets for everyone in the boat. Also, some states require children 10 years and younger to be wearing a life jacket while the boat is moving.
By law, all boats must have an up-to-date fire extinguisher in case a problem occurs while out driving.
If your boat starts to have a problem and stops working, make sure you keep a rope in your boat at all times in case you need a tow back to the dock or to the launch.
If someone is getting pulled behind a boat or a PWC, keep your distance in case they fall. The boats pulling someone have the right of way. It doesn't matter if they are on your right or left side. When people get in their way, it could cause a serious accident.
When you are driving around, you might see a buoy with an orange diamond on it—these mean danger. There are rocks or something under the water that could cause harm to your boat or PWC.
Most of the time when you are out on a boat, you are with friends and family. It is a fun social activity, but make sure that you are being safe. Most states have the same rules for driving a boat as they do for driving a car when under the influence. On a boat, they are called boating while impaired (BWI).
Time To Buy Something Fun?
If you have had the same boat or PWC for years and you have decided to buy something newer and faster. You can donate your old boat or PWC to Vehicles For Veterans. We are a vehicle donation program that supports veterans and their families. Don't waste your time trying to sell it when you can help veterans and make room for your new vehicle today!