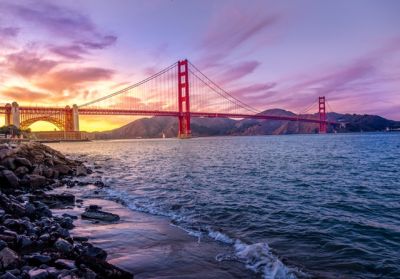 Did you know that you could help veterans all over the nation just by donating your car in San Francisco?
The proceeds from your donation to Vehicles For Veterans help fund programs for disabled veterans and other veterans in need. Donate car to help veterans and their families!
Why Donate Your Car?
San Francisco car donations are beneficial for both you and the veterans' programs that benefit from your donation.
While the proceeds from your donation go to help charity, you will enjoy the other great benefits of donating a car:
Free towing from anywhere in the bay area and California. We'll pick up your car from San Francisco, Long Beach, Los Angeles, San Diego and everywhere else in both the bay area and throughout California. Donors don't pay anything to have their vehicle towed when they choose Vehicles For Veterans San Francisco.
Donate a car to get the highest possible tax deduction. Vehicles For Veterans is a registered 501(c)(3) nonprofit organization. Your donation to our program is completely tax deductible.
Acceptance of most vehicles regardless of whether they run or not. In most cases, we can accept cars, boats, RVs, motorcycles and more in any condition, even if it's a junk car. No matter its condition, your vehicle will help veterans when we accept it as a donation.
Customer service from our friendly staff. If you have any questions about making a charitable San Francsico car donation, we're here to help! Our donation representatives can help with questions about vehicle titles, towing, tax deductions and much more.
It's Easy To Donate A Car In San Francisco, CA
If you have a vehicle you'd like to donate, our staff is ready to take your call! Follow these easy steps and your car will be on its way from the bay area to help veterans and get a great tax deduction.
Call 1-855-811-4838 or use our vehicle donation form to make your donation online.
We'll find a convenient day for your vehicle to be picked up and we'll schedule your towing time. If you donate online, we'll contact you within 24 hours of the next business day to schedule your vehicle towing time. We pick up car donations anywhere in San Francisco. Free towing makes our car donation program even better!
After we receive your car, it will be auctioned or recycled. The proceeds from its sale benefit veterans' charities that provide important services for our nation's veterans. Car donations to Vehicles For Veterans help veterans all over the country.
We'll mail you a tax-deductible receipt that you can use to claim your tax deduction. Save this in your files and use it on next year's taxes. Your amazing tax deduction confirms it pays to donate!
Turn Your Vehicle Into Much More
San Francisco residents have a great opportunity to give back to veterans everywhere. All it takes is a quick and easy car donation to Vehicles For Veterans. If you have a car, boat, RV or motorcycle, turn it into so much more than a vehicle by donating it today!